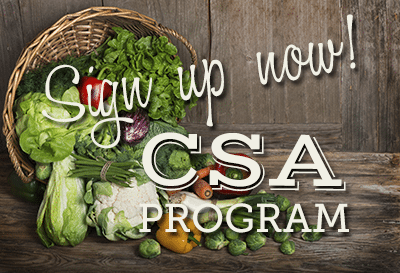 Sign Up By Clicking the "Sign Up Now" Box —->
2023 CSA (Weekly Fruit & Veggie Club)
Mt Airy Orchards is participating in the Community Supported Agriculture program commonly called CSA -or – the Weekly Fruit & Veggie Club! Get the best fruits and vegetables for your family by buying local produce.
What is Mt Airy Orchards CSA?
The basic idea of CSA farming is a cooperative relationship between the farmer and his customers. Based on an annual commitment to each other, community members provide a pre-season payment to purchase a "share" of the season's harvest. The member receives a weekly box of a wide variety of fresh, in-season fruits and vegetables as well as the possibility of other farm product treats such as our own baked goods throughout the growing season.
What is a share?
A share is a weekly box of local, fresh, sustainable produce that is picked up or delivered each week for 18 weeks (week of May 21st through September 17th). There are 2 types of shares – personal and full. Our shares include a mix of fresh fruits and vegetables and from time-to-time other treats (for example homemade apple cider donuts, homemade jam, new recipes to try). Your share will reflect the growing season – the contents will always be changing. The first 2-3 weeks are lighter because the growing season in PA is just starting, but as we head into summer the shares are "fuller." For example, the very first share might have asparagus, spinach, lettuce, red beets, spring onions and apple cider donuts (it's usually just produce but since the start is light, we sometimes throw these in!) and a share a couple weeks later might have these 6 items: strawberries, rhubarb, asparagus, bok choy, spinach, and red beets. Then in late summer it might be peaches, apples, sweet corn, tomatoes, cucumbers and cabbage. The full share has more of the same items – for example a quart of strawberries vs a pint for the personal. Some of the different items you will see throughout the season may include: strawberries, rhubarb, bok choy, blackberries, snow peas, sugar snap peas, spinach, lettuce, cabbage, tomatoes, onions, sweet corn, blueberries, summer and winter squash, peaches, nectarines, potatoes, green beans, green peppers, apples, Brussel sprouts, zucchini, yellow squash, & plums.
Being a CSA member is a season-long commitment to our farm, and in return we provide you with the best produce and family farm experience. In addition, you will receive 10% off all pick-your-own (strawberries, blueberries, blackberries, red raspberries, black raspberries, sunflowers, apples, and pumpkins) as well as 2 free Corn Maze/Admission Area tickets per share purchased! You will also receive an email each Monday letting you know what will be included in that week's share.
A Full Share
This is a larger portion of produce: ideal for a family or a couple that loves eating healthy! The full share is approximately a half-bushel box of produce each week – the first few weeks are slightly *lighter* due to the growing season just starting and later weeks are heavier but on average you will receive about a half bushel of produce each week. The full share is $449 for the 18-week season – which is only $24.94/week!
A Personal Share
The personal share is ideal for a single person or a couple on the go who want to enjoy fresh produce but don't want as much as the full share. A personal share is approximately a peck of produce a week – again the first few weeks are lighter, but the quantity increases as we head into summer with an average of a peck over the course of the season. The personal share is $349 for the 18-week season – which is only $19.39/week!
Where/When do I pick up my share?
You can pick up your share at the orchard (522 E Mt Airy Rd., Dillsburg PA 17019). Choose to pick up on either Wednesdays or Thursdays, between 9am and 7pm. 
Your produce will be kept in our cooler until you arrive which is great if you can't pick up your items right away. Summer heat can harm your produce.
What if I am on vacation or unable to pick up my share?

You may arrange for someone else to pick up your share if you are unable to do so. It's a great way to introduce the program to a friend or neighbor! (Any shares not picked up will be donated to New Hope Ministries).